The HiRISE camera on Mars Reconnaissance Orbiter has captured another great image of an avalanche on Mars: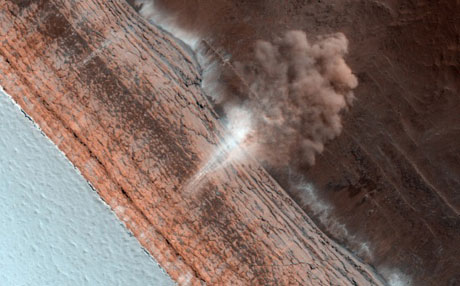 Image Credit: NASA/JPL/University of Arizona
The images shows a cloud of dust caused by frozen carbon dioxide breaking loose from the top of a large cliff (lower-left corner of the image) and carrying additional debris from the cliff face with it. Material from previous avalanches can clearly be seen as white wisps along the base of the cliff.
Filed Under Mars, Space | Leave a Comment
When the wheels of NASA's Mars Exploration Rover Spirit dug into a patch of ground on its way to getting stuck, it exposed the color variations shown in this false color image taken on sol 1892: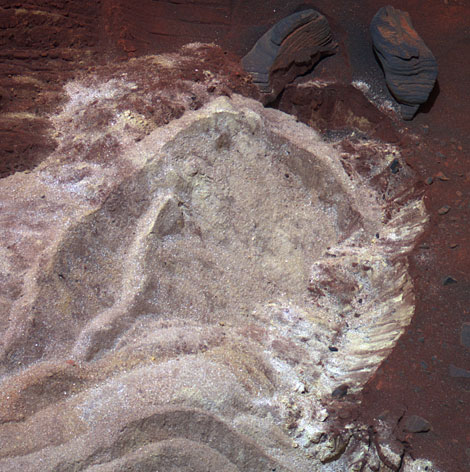 Image Credit: NASA/JPL-Caltech/Cornell University
For a sense of scale, the two rocks near the upper right corner of this view are each about 10 centimeters (4 inches) long and 2 to 3 centimeters (1 inch) wide.
Meanwhile, efforts continue to figure out how to help free Spirit – today the testbed rover was driven into prepared bed of soft soil, where the wheels sunk, as planned, just as Spirit's have on Mars.
Filed Under Mars, Space | Leave a Comment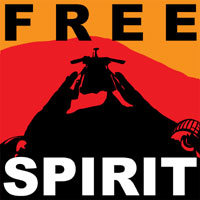 NASA's Mars Exploration Rover website has a new Free Spirit page tracking the efforts to get Spirit "unstuck" from its sand trap.
Engineers are mixing diatomaceous Earth and clay in the on-earth rover testbed to attempt to recreate conditions similar to the ones in which Spirit has gotten stuck on Mars so that a sequence of commands can be developed to safety drive the rover out of the mess it's gotten itself into.
Spirit used it's microscopic imager (which was not designed for anything other than close-up images) to take this fuzzy sequence of pictures under itself that show the wheels dug deeply into the sandy soil, and an ominous pointy rock poking up toward it's belly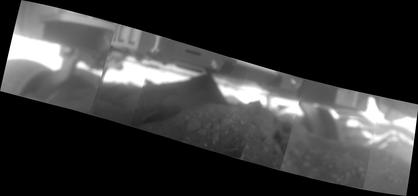 Filed Under Mars, Space | 3 Comments
This self-portrait of Mars Exploration Rover Opportunity was taken on sol 180 in July 2004 as the rover began it's descent into Endurance Crater: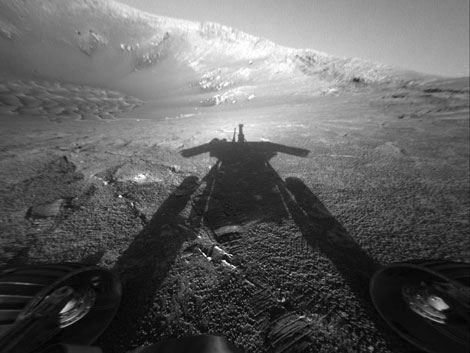 Image credit: Mars Exploration Rover Mission, JPL, NASA
Endurance seems so long ago, and Opportunity has continued on to Victoria Crater and ultimately will attempt to reach Endeaver Crater after a two year, 22 kilometer (7 mile) drive.
Filed Under Mars, Space | Leave a Comment
My son Brian sent a copy of "A Passion for Mars" by Andrew Chaikin as a Father's Day gift. It covers everything from the early Mariner missions to Spirit and Opportunity and beyond.
I really enjoy Chaikin's writing, and especially liked "A Man on the Moon", his earlier book on the Apollo program that served as the basis for the HBO series "From the Earth to the Moon" produced by Tom Hanks.
Filed Under Books, Mars, Space | Leave a Comment
Another of my favorites – a sunset on Mars as captured by the Mars Exploration Rover Spirit on May 19th, 2005: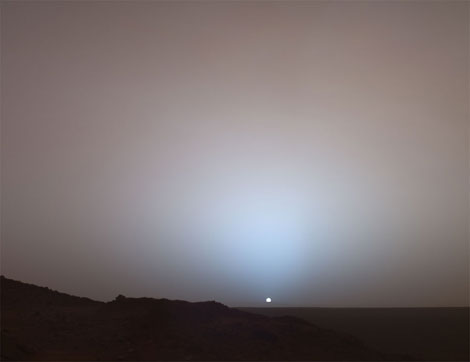 Image credit: NASA/JPL/Texas A&M/Cornell

If you click on the image to see a larger version, you can clearly see the sun sinking behind the rim of Gusev crater in the distance.
Filed Under Mars, Space | Leave a Comment
To get things going again, I thought I'd start posting some of my favorite space images – and what could be better than this animated sequence of 5 images of the plume of Tvashtar volcano on Jupiter's moon Io: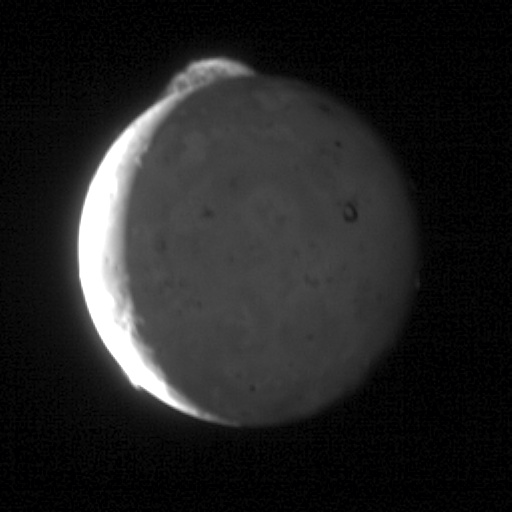 Image Credit: NASA/Johns Hopkins University Applied Physics Laboratory/Southwest Research Institute

This sequence of images was captured by the New Horizons spacecraft's Long Range Reconnaissance Imager (LORRI) as it passed by Jupiter on its way to Pluto.The plume extends 330 kilometers (200 miles) above the moon's surface. Only the upper part of the plume is visible  – the plume's source is 130 kilometers (80 miles) below the edge of Io's disk,  on the far side of the moon.The five images were obtained over an 8-minute span, with two minutes between frames, on March 1, 2007.  Io was 3.8 million kilometers (2.4 million miles) from New Horizons. More information on the New Horizons can be found at JPL's New Horizons Plut-Kuiper Belt mission website.
Filed Under Space | Leave a Comment
Whew! That's the longest I've been away since this site was established more than 5 years ago. Posting should once again be much more frequent.
One of the reasons I've been away was that I got really tired of dealing with comment spam, but I've finally gotten around to upgrading to the most recent version of Movable Type to take advantage of some of the newer spam filtering options. I did find it amusing that within minutes of doing the upgrade (and before installing any comment spam filters) there were two spam comments posted. The battle continues…..
Filed Under Uncategorized | 1 Comment
If you ever need graph paper, you can find a wide variety of downloadable/printable graph paper in PDF format over at incompetech.com (you can even generate custom layouts). You'll also find montly and yearly calendars.
Filed Under Geek | Leave a Comment
A while back, I wrote about the fact that you could order customized M&M's by selecting from 21 different colors to produce your own blend. Well, now you can add custom printing as well, with two lines of up to 8 characters each, and you can include two separate messages if you like.
Filed Under Geek | Leave a Comment
« go back
—
keep looking »